Recent News
Lloyd Stewart Carpenter
Ocean Science and Maps Researcher


The man who discovered the amazing images on our planet
Lloyd Stewart Carpenter has been guest on more than
550 talk Radio and Television shows
throughout the
United States and Europe.
The book
Ocean Floor Mysteries
The Amazing Mystery of the Great

FACE

on the

PACIFIC OCEAN FLOOR


is now being translated into
Chinese Mandarin and Spanish

Within the last few years Lloyd Stewart Carpenter has presented a

3 hour lecture presentation throughout the nation. Some of them are listed below.
Lloyd has been a guest on more than

550 radio and TV programs

speaking about Ocean Science, Tsunamis, Earthquakes and his amazing discoveries.. He made the front page of the LA Times and New York Times newspapers! Lloyd shows four images beneath the ocean floor and one on the surface that depict the spiritual struggle for mankind.
1.




Movie Reviews

Lloyd has been interviewed to review both of the Left Behind Films and Mel Gibson's The Passion






during the 1980's Lloyd Stewart Carpenter as owner of Transmedia Theaters of Californa


was the youngest theater circuit owner in America.


2.




Movie Spokesperson




Lloyd Stewart Carpenter was a spokesperson for

a the movie "DECEIVED" with Lou Gossett Jr. and Judd Nelson.

from Cloud 10 Pictures.

Lloyd did about 25 radio shows throughout the nation helping to promote the move.

Previously Lloyd did about 30 radio shows helping to

promote the movie "Left Behind".


e-mail us for additional details
New subscribers to our newsletter have been overwhelming. If you haven't joined the Domino Gang yet you should because we have had to remove the video and audio feeds from this site due to excessive traffic. Also if you have not bought the book yet, you should because supplies are limited.
As most Domino Gang members know, Lloyd has been the special featured guest on more than 180 radio and television talk shows in the last eighteen months. Most of these interviews have been one hour in length and were spent mostly explaining the details of his amazing discovery. But after talking about the 5 huge images on our Earth, there has been little time for elaboration. When various radio shows have Lloyd held over for a second hour, much more is revealed and discussed.
The entire 4 hours on "Coast to Coast" was considered one of the most provocative ever. During the show (according to callers) A meteor or UFO evidently interrupted the broadcast for about 10 minutes. During the last two hours callers talked with Lloyd about every aspect of his discovery.
The former "Coast to Coast" show with George Noory was such a success that just a few short months later, Lloyd was their featured guest again, this time for
3 hours
with regular host Art Bell
June 3, 2002
For the first few minutes Art Bell had trouble seeing the face, but then during his first commercial,
Art interrupted the sponsor and revealed, "Epiphany, Epiphany," I really do see the FACE." After that he presented questions and points that made this one of the most informative and provocative shows ever.
Even though our server promised that it wouldn't happen this time, in the first 3 minutes of the show our web site crashed due to over activity. Also our phones stopped working and our voice mail became full in the first one minute of the show.

Lloyd was again a guest with Art Bell in February 2006
discussing the coming
Polar Shift.

But what is most important to us is the thousands of new members to our Domino Gang. Many of you
have contributed ideas and input suggestions and constructive criticisms that are important to the
integrity of our research. We are grateful. It is our hope that many of these can be included in a book or series of articles which will published in the next year.

e-mail us at: spiral2@earthlink.net
Click Below for the Rest of the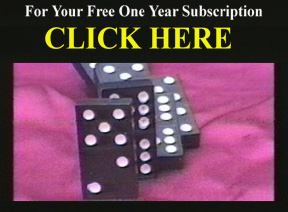 ---